Speculative Fiction of the Highest Caliber
Posted by TammyJo Eckhart | October 17, 2014
Podcast of Horror!
John Taff and I appear on the Armcast Podcast.
The Trilogy is Complete!
Beyond the Softness of His Fur, Part Three: Private Revolutions is now on sale!
The third and final installment in a provocative erotic science fiction trilogy. A tale of genetics, sex, and love between an owner and her anthropomorphic pet, Private Revolutions concludes the exploration of Emily and Wynn's dystopian society.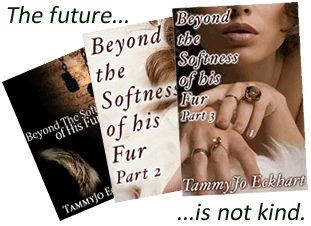 Corporations influence every aspect of life in their world, where animalistic-humanoid hybrids known as "morphs" are commonly kept as pets. Emily and Wynn's lives are now fraught with more danger than ever, coming from all sides. Although Emily first procured Wynn under orders of the company she works for, her own reticence to share him and Wynn's increasingly intelligent behavior have brought them under intense scrutiny and suspicion. The supposedly like-minded Dr. Vevern insists she wants to help save Wynn and Emily by extension, but it quickly becomes apparent that she is keeping secrets of her own. Natural resources are dwindling fast enough that chaos is beginning to erupt, with widespread fears that the conditions that began the brutal Water Wars might recur. And to top it all off, Emily must confront her assistant Lindsey with evidence of his betrayal with surprising results that Wynn is none too pleased with. With all of these outside factors threatening their own little world at home, Emily and Wynn must work harder than ever to preserve their love — and their very lives!
Available now for $3.99 at Amazon (Kindle), Smashwords (Epub), All Romance Books (Mobipocket), and Kobobooks.

Part Two: Social Corruption (Amazon, Smashwords, and All Romance Books) and Part One: Wonders of Modern Science (Amazon, Smashwords, and All Romance Books) are still available — get them while supplies last!
At Her Feet: Now an Audio Book!

I'm happy to announce that the book I've written with my partner, At Her Feet: Powering Your Femdom Relationship, is now available, unabridged, as an audiobook on Audible, Audible (UK), iTunes, and Amazon!
We're honored to be one of only two Greenery titles chosen.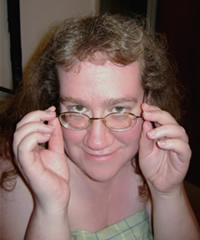 Hi. I'm TammyJo Eckhart, Ph. D. — let me tell you a little bit about myself before you explore the rest of this site.
Whether it's science fiction, contemporary fiction, fantasy, horror, or historical fiction, my literature offers something for everyone of mature taste who loves strong, powerful women and sturdy, caring men. I delve into the nature of human relationships on their most intimate, most intense, and sometimes most frightening levels. Much of what I have written has been called 'erotic' in our split-personality society (the one that thinks it's okay to use to sex to sell potato chips, but not okay to educate people about the realities of sexuality in all its forms). I've published some non-fiction as well, including book reviews on a vast array of topics and published my own scholarly articles on women, mythology, gender, and slavery. You can see more about this on the publications page where you'll also find discussions of my writing process, my thoughts on publishing, and snippets of my fiction.
Currently, I have four books in print — with several more in various stages of completion. Whether it's a look back into the Bronze age or a journey into the far future, the odds are good that I have a story set in a period or genre you will enjoy. In part, this is because of my academic background. I hold a Bachelor of the Arts degree from Drake University, a Master's degree from Columbia University and a doctorate from Indiana University. All are in the field of Ancient Mediterranean History with minors in Women's History and Folklore. I've taught dozens of college, university, and community courses ranging from the period of earliest human civilization until today. I appreciate the differences in societies as well as valuing those commonalities that mark us as human beings. All of this shows up in my short stories, novels, and even the role-playing games that I run.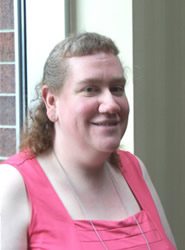 I approach my writing as I do my life, doing nothing I am ashamed of and doing it to the best of my ability. Human culture is complex, so I apply my scholarly background and ability to research in order to create vibrant and believable worlds where my characters and their lives explore things you, as a reader, can only dream about, but with the feelings and rationality that you will recognize in yourself regardless of your ethnicity, gender, nationality, orientation, race, religion, or sex. Life is never as simple or as complex as we first imagine and each of my stories reveals a truth about being human, or formally human, or never human, that has touched people from all walks of life. My writing is, however, for the mature reader. Note that I didn't say 'the adult reader'; age is not the only criteria for maturity. You must be willing to challenge yourself to enjoy literature of any substance or be left reading the same old ideas in the same worlds over and over again — stagnating your mind and soul in the process.
Consider this website a basic resource about my writing and about me. To learn more, explore my links or introduce yourself to me at a convention. I love talking to old fans and new ones. I love seeing that sparkle in someone's eyes when they thought my work 'wasn't for them' and then saw themselves reflected in my words or appreciated having their horizons expanded.
Are you ready to have your own boundaries pushed, your mind expanded, and your heart opened? Take my hand. I promise I won't bite...too hard.
Love, Peace, Hugs, Kisses, Whips & Chains,
— TammyJo Eckhart